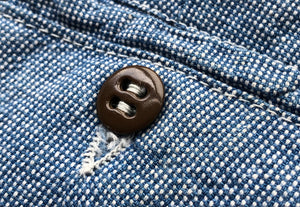 Precious little exists regarding the origins of indigo pin check cotton fabric; in fact, I've never encountered any writing that mentions its making or history. Yet fragments do exist here and there so what've I've done is piece them together in an attempt to create a picture of how this unique fabric came to be. First, I should explain briefly what indigo pin check is: it's a plain weave base fabric, in this case indigo dyed, that has white threads woven through it. The resulting dots are the size of a pinhead, thus the name. It's a lighter fabric, often about 8-9 oz., that...
---
• 1930s • america • heritage • loopwheel • made in usa • slub yarn • t-shirt • tee • the rite stuff • tube knit • undershirt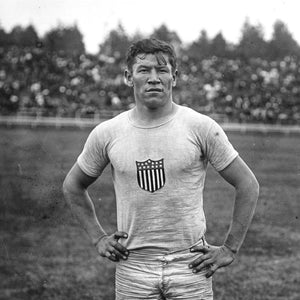 Jim Thorpe, American Olympian and later pro football Hall of Famer, competing in track and field for Team USA at the 1912 Summer Olympics in Stockholm, Sweden.  The humble T-shirt does it all: it's an undershirt and a standalone, comes in plain and printed varieties, even functions as wearable advertising. Tees have been a style icon for decades now, but when did they first become popular? If you look online most articles will tell you that tees became staples after World War II, and especially in the 1950s. Is that commonly held belief true, though?   The short answer is: no....
---
• 1930s • america • apparel • chinos • clothing • cotton • heritage • khaki • made in usa • rite stuff • the rite stuff • vintage • workwear
It's commonly believed that chinos became popular after WW2 and servicemen returned home. That sounds good, but is it true?
---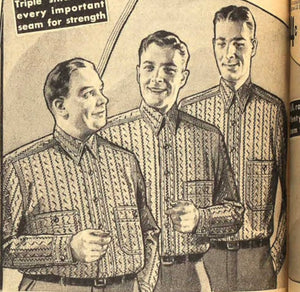 Tupelo, Mississippi: it's best known as the birthplace of Elvis Presley, but to those interested in the history of American workwear, it's also likely the home of a special fabric. That textile is Tupelo madras chambray, a much sought after vintage collectible that's rarely reproduced, and one that might have an Elvis connection, too, as we'll see. What is Tupelo madras chambray? It's a shirting and dress fabric woven with 'fancy' patterns, popularly used for work clothing between the late 1920s and late 1930s. Catalogs from Sears Roebuck, Montgomery Ward and more featured Tupelo madras work shirts for men and fabric sold...
---
• 1930s • america • style • vintage • work shirt • workwear
And we're back! But wait, you're probably thinking, "What, just one decade this time?" I know, I know, but there are two reasons for that.