• 1930s • america • heritage • loopwheel • made in usa • slub yarn • t-shirt • tee • the rite stuff • tube knit • undershirt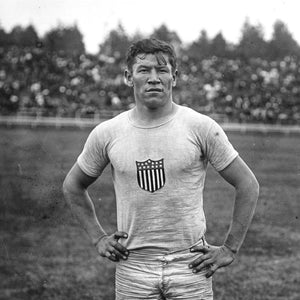 Jim Thorpe, American Olympian and later pro football Hall of Famer, competing in track and field for Team USA at the 1912 Summer Olympics in Stockholm, Sweden.  The humble T-shirt does it all: it's an undershirt and a standalone, comes in plain and printed varieties, even functions as wearable advertising. Tees have been a style icon for decades now, but when did they first become popular? If you look online most articles will tell you that tees became staples after World War II, and especially in the 1950s. Is that commonly held belief true, though?   The short answer is: no....
---
• 1930s • america • apparel • chinos • clothing • cotton • heritage • khaki • made in usa • rite stuff • the rite stuff • vintage • workwear
It's commonly believed that chinos became popular after WW2 and servicemen returned home. That sounds good, but is it true?
---
• aegis handcraft • bandanna • daniel sheridan • handmade • indigo • made in usa • the rite stuff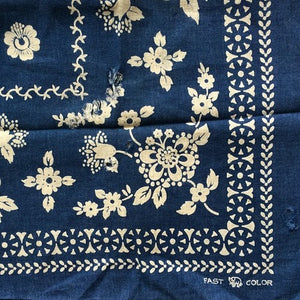 Bandanas, bandannas, and kerchiefs. They've been around forever, have gone through phases as headwear, cowboy wear, even Village People wear, and are making a comeback again in the heritage scene. After all, who doesn't want some wearable art with them all the time? Where do bandanas come from though? Let's start with the word, since it's meaning isn't self-evident. The word bandanna comes from the Sanskirt "bandanha" (बन्धन) "a bond," and "bandhati", a "tie". The name attests to the fact that bandanas were made with a tie-dye technique. That's right, bandanas are originally from India, hence the paisley patterns they're usually adorned with....