• calico • denim • heritage • indigo • rite stuff • stifel • the rite stuff • wabash • workwear
How did the term "wabash" really originate and is that what people called it in the past?
---
• aegis handcraft • bandanna • daniel sheridan • handmade • indigo • made in usa • the rite stuff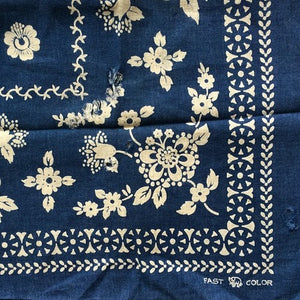 Bandanas, bandannas, and kerchiefs. They've been around forever, have gone through phases as headwear, cowboy wear, even Village People wear, and are making a comeback again in the heritage scene. After all, who doesn't want some wearable art with them all the time? Where do bandanas come from though? Let's start with the word, since it's meaning isn't self-evident. The word bandanna comes from the Sanskirt "bandanha" (बन्धन) "a bond," and "bandhati", a "tie". The name attests to the fact that bandanas were made with a tie-dye technique. That's right, bandanas are originally from India, hence the paisley patterns they're usually adorned with....