• cotton • ecru • harvester • henley • john lofgren • long-sleeve • made in japan • the rite stuff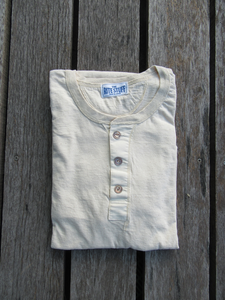 Hello again ladies and gents, I'm back with something big: the first sample of The Rite Stuff 'Harvester' long-sleeve henley in ecru fabric! Once again, the shirt is made in Japan, with Japanese fabric, with John Lofgren and Co. Although it's a sample, the factory knocked it out of the park on the first try and I don't plan on making more samples. We'll just change the tag out for a different one and this baby is good to go! In case you missed my previous blog post on henleys, I've dived a bit into the history of this shirt, which...
---
• apparel • henley • heracles • john lofgren • made in japan • mythology • scarf • the rite stuff • wabash
Hello again boys and girls, it's been a while since I've posted; well, I've been busy with the odds and ends of life, work, a man-flu, and grappling with The Rite Stuff's stuff. 
---
• clothing • henley • history • made in japan • style • the rite stuff
Henleys: usually when we see them, we think of pioneers and prospectors, toiling and sweating in the Wild West, their buttoned-up undershirt stained with blood, coal, or worse. Your average miner in the 1890s did wear a button-up under his clothes in cold weather, but instead of a henley shirt it was more likely a one-piece "union suit," or what we call "long underwear" these days: I'm sexy and I know it. However, in the late 1890s we find examples of standalone henley shirts with a shorter placket worn as underwear: Ecru undershirt with pearl buttons - Sears-Roebuck 1897 Underwear...