• 1930s • america • heritage • loopwheel • made in usa • slub yarn • t-shirt • tee • the rite stuff • tube knit • undershirt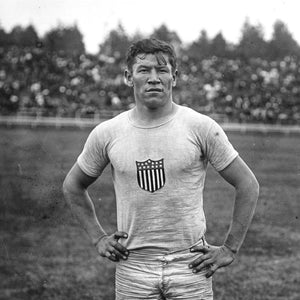 Jim Thorpe, American Olympian and later pro football Hall of Famer, competing in track and field for Team USA at the 1912 Summer Olympics in Stockholm, Sweden.  The humble T-shirt does it all: it's an undershirt and a standalone, comes in plain and printed varieties, even functions as wearable advertising. Tees have been a style icon for decades now, but when did they first become popular? If you look online most articles will tell you that tees became staples after World War II, and especially in the 1950s. Is that commonly held belief true, though?   The short answer is: no....
---
• 1930s • america • apparel • chinos • clothing • cotton • heritage • khaki • made in usa • rite stuff • the rite stuff • vintage • workwear
It's commonly believed that chinos became popular after WW2 and servicemen returned home. That sounds good, but is it true?
---
• 1930s • america • style • vintage • work shirt • workwear
And we're back! But wait, you're probably thinking, "What, just one decade this time?" I know, I know, but there are two reasons for that.