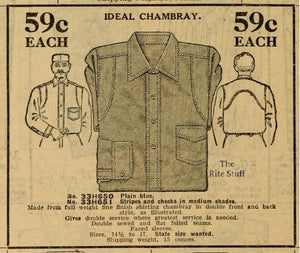 Hey there everyone, I'm back with another blog post, this time after I started writing an email reply about how work shirts have changed over time. Admittedly, this is a bit of a rough sketch attempt I'll make below, but I want to go into some detail to explain how styles changed (and didn't) in various eras.  I suppose I could go way, way back regarding "work shirts" (like, ancient Greece or China, or the Ice Age) but let's stick with the more semi-modern era, starting with the turn of the century. The 1900s-1910s The turn of the century is...
---
• calico • denim • heritage • indigo • rite stuff • stifel • the rite stuff • wabash • workwear
How did the term "wabash" really originate and is that what people called it in the past?
---
• ethics • heritage • john lofgren • made in japan • the rite stuff • workwear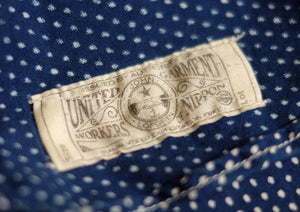 It's been a while, huh? Sorry about the lack of blog posts, but life has been hectic for me these days. I moved out of the city, got a new job, went to Sendai, have been looking to (and signed to) buy a house, and more. So, it's been crazy this past month, but that's no excuse! Today I'd like to write about what exactly "Made in Japan" means for me, for my brand, and explain a bit more about why working with John Lofgren is so important.  More than just helping with production in Japan, John helps to make...
---
• daychild • imperfect atelier • round up • slowrock • stockists • the rite blog • the rite stuff • update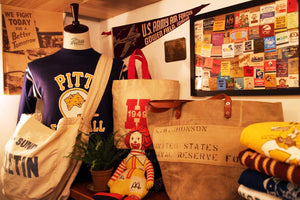 Long time no see, pardners! Well, the ol' dusty trail has gotten long and I've actually been pretty busy, even though it might not seem it around these parts. I'm currently waiting for samples to come of the Harvester henley in burgundy and navy blue colors, to ship sometime in the fall. Because the ecru fabric I used originally isn't offered in these other colors, we've taken to garment dying them. However, the garment dying is done by an old worker in Japan and he works as fast as he can. This of course means it's taking longer than I'd...
---
• chambray • cotton • heracles • heritage • history • john lofgren • made in japan • style • the rite stuff • workwear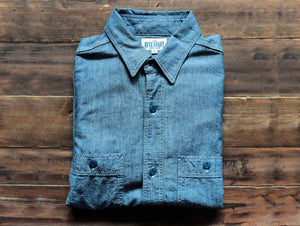 Lately I've been thinking more deeply about chambray fabric, so I decided to put some thoughts down first. When I first started The Rite Stuff, a colleague asked me "Why a chambray shirt as the first product?" I had to think about this for a second, but only to put into words. Instinctively, I knew the answer. A chambray work shirt is my "desert island shirt," as I've mentioned here before.  But why? One reason is that blue goes with a lot of different styles. Blue chambray is where the "blue collar" comes from as well. It doesn't stain as...